User:Dogcow
Jump to navigation
Jump to search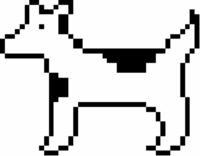 Contact Me
My handle on freenode (IRC) is 'dogcow'. If you'd like to contact me privately, please message me on IRC, and I can provide further contact details (e-mail, XMPP). I am in the USA Mountain time zone (UTC -7).
About Me
I am not a software developer, but rather a *nix (in order of preference: OpenBSD, FreeBSD, GNU/Linux) "power" (ha!) user who is fed up with the complete lack of transparency and near-ubiquity of user-hostile platforms in modern computing as a whole. I needed a desktop workstation to use as my "daily driver," and although the price tag was extremely painful, I thought it prudent to "vote with my wallet" and purchase the most open/least user-hostile system I could, which turns out is a Raptor system with an IBM POWER9 CPU. (Pretty much the only option if you want something in the same performance ballpark as x86).
I've been using open source operating systems almost exclusively for longer than I can remember at this point (still can't code worth a darn), but despite my familiarity with BSD and Linux, I'm sure there will be some rough edges with the Power platform (since PPC ports are not as well tested/optimized as their x86 counterparts). Freedom isn't free, as they say, so I'll chalk up any struggles to a learning experience as part of the fight for a brighter computing future.
That said, the desktop Power community is still extremely small, so I hope I can find some way to contribute, as I look forward to the success and growth of the Power architecture for personal computing.
Build
Codename: Freebird
Status: Built and operational. [14 Sept 2019]
System Type: Raptor Blackbird

Component
Brand
Model
Cost
System Mainboard/CPU
Raptor Blackbird
8-Core POWER9 Bundle
$1,959.16
Case
Fractal Design
Define R5 ATX
$137.53
650W PSU
SeaSonic
Prime Ultra 650W 80+ Titanium
$164.99
64GB RAM (32x2)
Micron
MTA36ASF4G72PZ-2G6D1
$276.74
2x 500GB 2.5" SSDs
Crucial
MX500 500GB
$133.98
Video Card
AMD
Radeon Pro WX 3100
$159.99
10 Gigabit SFP+ NIC
Mellanox
ConnectX-3 MCX311A
$46.80
4x 2.5" Drive Caddy (5.25" Bay)
ICY Dock
ToughArmor MB607SP-B
$80.99
Blu-Ray Optical RW Drive
Pioneer
BDR-209DBK
$74.99
Dual 32-inch Displays
Dell
S3219D
$479.98
UPS/Power Conditioning
CyberPower
1350VA
$99.99
Miscellaneous Cables
Various
DisplayPort, OM4 Fiber, SATA
$56.77
Keyboard
IBM Model M
1987 Vintage P/N 1390131
$0
Total
$3,671.01
Note: Blackbird bundle price includes shipping, taxes, and fees. Prices of other components do not include taxes or fees (shipping was free for all items).