Difference between revisions of "Talos II"
Jump to navigation
Jump to search
---
Latest revision as of 21:14, 19 September 2022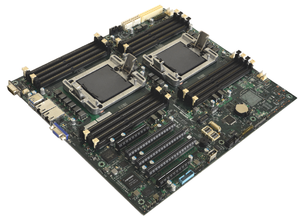 Talos™ II is Raptor Computing Systems' next-generation POWER9 platform. Focusing on security and performance, it is a dual socket PowerNV system that is available in desktop, workstation, and server form factors, or as bare mainboard.
Talos II is the successor to the proposed Talos I system.
Mainboard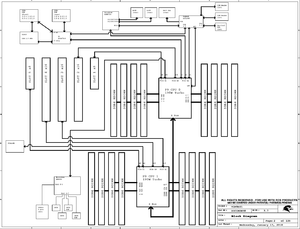 Specifications
| Mainboard Part # | Form Factor | CPU Type | Networking | Storage Controller |
| --- | --- | --- | --- | --- |
| T2P9D01 | EATX | POWER9 Sforza | 2x GbE (Broadcom BCM5719) | SAS (optional, Microsemi PM8068) |
EATX form factor
16 DDR4 ECC registered RAM slots, quad-channel, supporting up to 2TB main memory
Two Gigabit Ethernet ports provided by a Broadcom BCM5719 chip
One Microsemi SAS 3.0 controller (optional, upcharge on selection)
Four USB 3.0 ports (2x rear, 2x on header for front panel) via firmware-free TUSB7340 XHCI chip
One additional internal USB 2.0 Type-A port
1 VGA video port
3 PCIe 4.0 x16 slots
2 PCIe 4.0 x8 slots
AST2500 BMC with OpenBMC
Notes
Sforza CPU models not sold by Raptor (of any core count) are expected to work.
CPUs with a TDP greater than 190W are likely to work, but it is possible that they will trigger a shutdown due to power overload (shouldn't cause any damage). Test reports welcome.
Mismatched DD2.2/DD2.3 Sforza CPU models work fine (the DD2.3 CPU will behave like a DD2.2 model); DD2.1 should not be mixed with production steppings.
Mismatched Sforza CPU clock speeds probably will fail to boot with current firmware; Raptor Engineering might be available to implement firmware support as contract work.
Mismatched Sforza core counts will probably guard out the second CPU with current firmware; Raptor Engineering might be available to implement firmware support as contract work.
T2P9D01 Configuration SKUs
| SKU | Sockets | RAM slots | PCIe 4.0 slots | SAS Controller |
| --- | --- | --- | --- | --- |
| TL1MB1 | 1 | 8 | 1 x16, 1 x8 | Does not change SKU |
| TL2MB1 | 2 | 16 | 3 x16, 2 x8 | Does not change SKU |
High-Resolution pictures
User manual
The primary user manual for the Talos II is the T2P9D01 User's Guide For Configuration and Setup.
Systems
In addition to being available as a mainboard, prebuilt systems are also available.
| SKU | Name |
| --- | --- |
| TL2WK2 | Talos II Secure Workstation |
| TL2SV1 | Talos II 2U Rack Mount Development Platform |
| TL2SV2 | Talos II 4U Rack Mount Development Platform |
| TL2DS1 | Talos II Desktop Development System |
| TLSDS1 | Talos II Special Developer System (DD2.1 stepping CPU) |
| TLSDS3 | Talos II Entry-Level Developer System |
| TL1BC1 | Talos II Lite Base Single CPU Board and Chassis |
Energy consumption
NOTE: numbers are approximate and may vary. System power measured at wall with standard instruments. CPU power reported by OCC.
Component
Design Power
Power Use (Idle)
Power Use (Full Load)
Additional Information
4-core CPU (DD2.1, 3.1/3.7GHz)
90W
31W
58W
CPU held at 50°C die temperature. WoF not yet boosting to full power.
PM8068 SAS controller
23W
Desktop Development System (TL2DS1)
111W
192W
2x 4-core CPUs, 2x 16GB RAM, 1x 1TB NVMe drive, integrated PM8068 SAS. 80% efficiency PSU.
Support
How To
See also
External Links