User:JSharp/Verax
Jump to navigation
Jump to search
T2/x86 FSC Heterogeneous Cluster (verax@kraftwerk)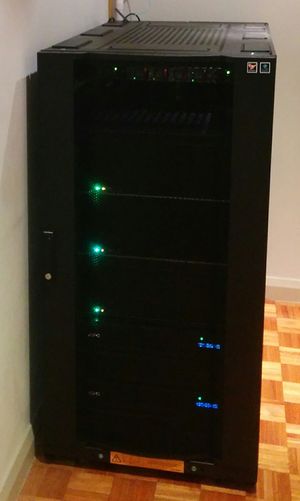 Includes Primary User Interface/System Element (in the IBM sense) components. A work in progress, incomplete - in general, ask on the discussion page.
Primary Purpose
Heterogeneous Distributed OS Development
K8s development
Real-time distributed raytracing, nonvolatile ram enabled persistent world simulation
Data Processing/Numerical Analysis Workloads for Academic Users
Firmware Integration and Development
Software Build Services for OpenPOWER Compatibility/Performance Related Open Source Projects
Full-control/debugging environment for low-level systems testing and verification including hardware/bus interposers (digital/analogue capture) for qualified local/remote users
Sub-ambient Cooling and Overclocking/Power Delivery Testing
Components
Incomplete list, acquisition status to be added (though the majority of components have been acquired).
Infrastructure

1x CyberPower CR24U11001 24U Rack Enclosure
3x TCG TGC-H4-650 Chassis 4U 650mm Depth w/o PSU
1x Thermaltake Core W200 Chassis (Dual System, 1x RCS T2/1x x86)

Power Routing and Management

2x APC SMX3000HV Smart-UPS 3000VA (4U)
2x CyberPower PDU20MHVIEC10AT Metered Auto-transfer Switch (1U)

Power Conversion

5x Corsair AX1500i Power Supply

Data Routing/Transfer

1x Arista DCS-7050QX-32 (QSFP+) (1U)
1x Cisco SG-500X-24-K9 (1U)
10x Mellanox MCX314A-BCBT ConnectX-3 Ethernet Adapters (Dual Port)

Data Storage Elements

30x Seagate BarraCuda ST8000DM004 8TB SATA HDDs (coldline)
10x Samsung EVO PRO 860 1TB SATA SSDs (warmline)
5x LSI 9300-8i SATA/SAS HBA
8x Intel 900P (4x PCI Express/4x OCuLink) NVMe 480GB (hotline)
32x Samsung M393A2G40EB2 16GB DDR4-2667 ECC DRAM (online - POWER) (64x once tested)
8x Micron MT36KSF2G72PZ-1G6E1FE 16GB DDR3-1600 ECC DRAM (online - x86) (16x once memory controller patched, known coreboot issues)

Data Processing Elements/Backplane

4x Raptor Computing Systems T2P9D01 Talos II Mainboard
1x ASUS KGPE-D16 Mainboard
2x AMD Opteron 6378 CPU
8x IBM POWER9 CPU (18-Core)
6x AMD Radeon Pro WX 7100