PM8068
Jump to navigation
Jump to search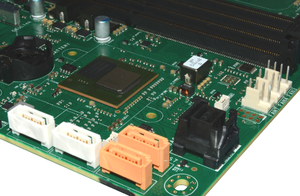 PM8068 is a SAS/SATA storage controller made by Microsemi. It is part of the Microsemi Smart IOC 2000 product family. It provides eight 12Gb/s SAS ports which support both SAS and SATA devices.
The PM8068 is an optional Talos II mainboard component. The chip is known to use MIPS internally.
Note: The documentation claims that the PM8068 does not support ATAPI CD-ROM, DVD, or tape devices.
Firmware and Software Situation
At this time there is no FLOSS firmware available, which can be considered the main disadvantage of the PM8068 Talos II option.
The main advantage of the PM8068 option on the Talos II is that, unlike an HBA/RAID controller installed in a PCIe slot, no additional PCIe link is lost when used. This was a design compromise that RaptorCS made early on to speed up time to market. Basically, part of one of the main CPU PCIe links is "tied" to the on-board SAS controller, even on the non-SAS models where it is not installed.
In terms of owner control (and security) Broadcom HBAs are considered to be a better choice; The program code of the setup tools is available, which means that no non-free software programs have to be executed to configure the controller.
Resources
External Links