Blackbird
Jump to navigation
Jump to search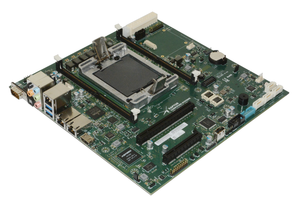 Blackbird™ is an adaptation of Raptor Computing Systems' next-generation POWER9 platform to the μATX (microATX) form factor. Focusing on the desktop use case, it is a single socket PowerNV system.
Mainboard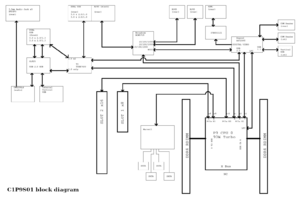 Specifications
| Mainboard Part # | Form Factor | CPU Type | Networking | Storage Controller |
| --- | --- | --- | --- | --- |
| C1P9S01 | MicroATX | POWER9 Sforza | 3x GbE (Broadcom BCM5719) | 4x SATA |
MicroATX form factor
Two DDR4 ECC registered RAM slots, dual-channel, supporting up to 256GB main memory
Three Gigabit Ethernet ports provided by a Broadcom BCM5719 chip
Four SATA ports provided by a firmware-free Marvell 88SE9235 SATA chip
5.1 audio supporting analog and S/PDIF outputs
HDMI output via BMC (2D framebuffer), using a firmware-free IT66121FN PHY chip
Four USB 3.0 ports (2x rear, 2x on header for front panel) via firmware-free TUSB7340 XHCI chip
One additional internal USB 2.0 Type-A port
One x16 PCIe Gen4 slot
One x8 PCIe Gen4 slot
AST2500 BMC with OpenBMC
Notes
CPUs with more than eight cores may operate without WoF due to power regulator limitations.
CPUs with four and eight cores function normally.
Energy consumption
NOTE: numbers are approximate and may vary. System power measured at wall with standard instruments. CPU power reported by OCC.
| Component | Design Power | Power Use (Idle) | Power Use (Full Load) | Additional Information |
| --- | --- | --- | --- | --- |
| 8-core CPU (02CY089): DD2.2, 3.45/3.8 GHz | 160W | 28-30W | 114W | Load generated via stress --cpu 32. CPU frequency scheduler: ondemand. Data reported by lm_sensors. |
| Blackbird 8-core bundle (BK1B02) with 2x 32GB RAM | | 54W | 164W | Load generated via stress --cpu 32. CPU frequency scheduler: ondemand. PSU: Seasonic PRIME 850W 80+ Platinum |
Support
See also
External Links